Creating A Workflow
Let's take a quick look at creating a simple workflow.
Once you have created an Assisted or a Solo Journey, you are ready to start with your workflow.
Begin your workflow journey:​
On the "Journey" page, you should see a list of all the Journeys that you have created.
Click the journey that you intend to work on.
Or, click the CREATE JOURNEY button to start a new journey.

The workflow page opens with a plain canvas and the Start icon is selected by default.
This canvas is where you will be preparing the BPMN (Business Process Model & Notation) diagram - Order Fulfillment, Incident Management, Purchase Processes, and many others.
"Checkout"
To begin adding "Tasks" to the flow, the first step you will be performing would be - "Clicking" on the Checkout button at the top-right of the page.

Activating Checkout authorizes you with the editing rights. And, only the user with the editing rights will be able to make or change the workflow.
Note: This is a very important process as it helps protect the workflow from accidental edits, and avoids issues arising from multi-user access. To either confirm your edits or to step out of the editing role, you must "Click" on the Commit button, which will now be available at the top-right, alongside the Save button.
Tasks​
There are two primary types of tasks - "User Tasks" & "System Tasks"
Note: User tasks require an interface for the users to interact with, which is enabled through the forms. And, system tasks are automated actions run by the system and don't require a user interface.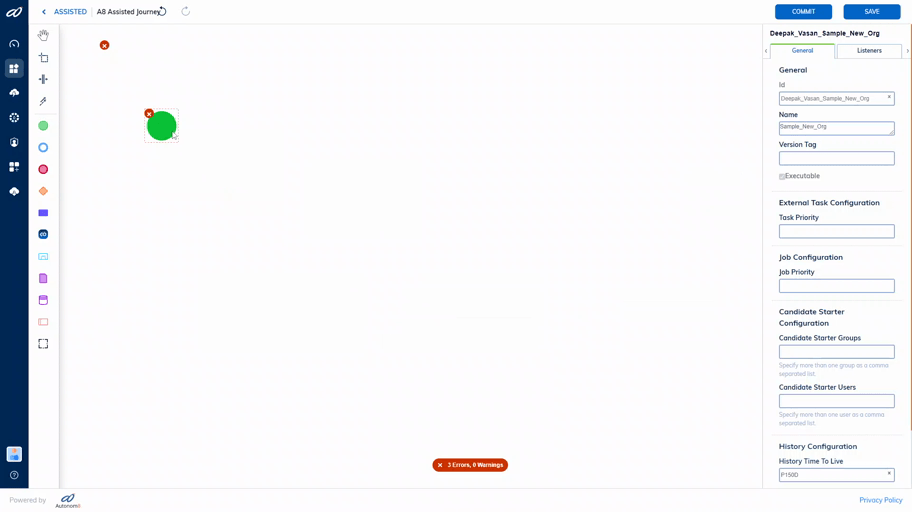 Step 01 - Creating A Task​
Click the "Start" icon to activate the pop-up menu. On the menu, select "Task" (represented by a Blue Rectangle). You will notice a blank rectangular task icon added to the canvas.
Step 02 - Configuring The Task​
Next, click on the newly added task and select the "Gear" icon from the pop-up menu. It should list the available configurations for the task. Each choice in this list represents a different set of actions that the task can perform. To create a task that can be assigned to an actor (user) select the "User Task", the task will now be highlighted in purple and a small "user icon" will be added to it to represent your choice.
Step 03 - Naming The Task​
While the task is selected, note the "General" tab to the right of the canvas. Under it, check out the "General" section with ID and Name. To give a name to the task, fill in the appropriate field, and hit Save to protect the changes done so far.
Step 04 - Adding Multiple Tasks​
Now, repeat the "Task" creation, configuration, and naming process based on the no. of actions involved within the workflow.
Step 05 - Closure To The Task​
To end the workflow, Click on the final task, and select the "End" icon from the pop-up menu.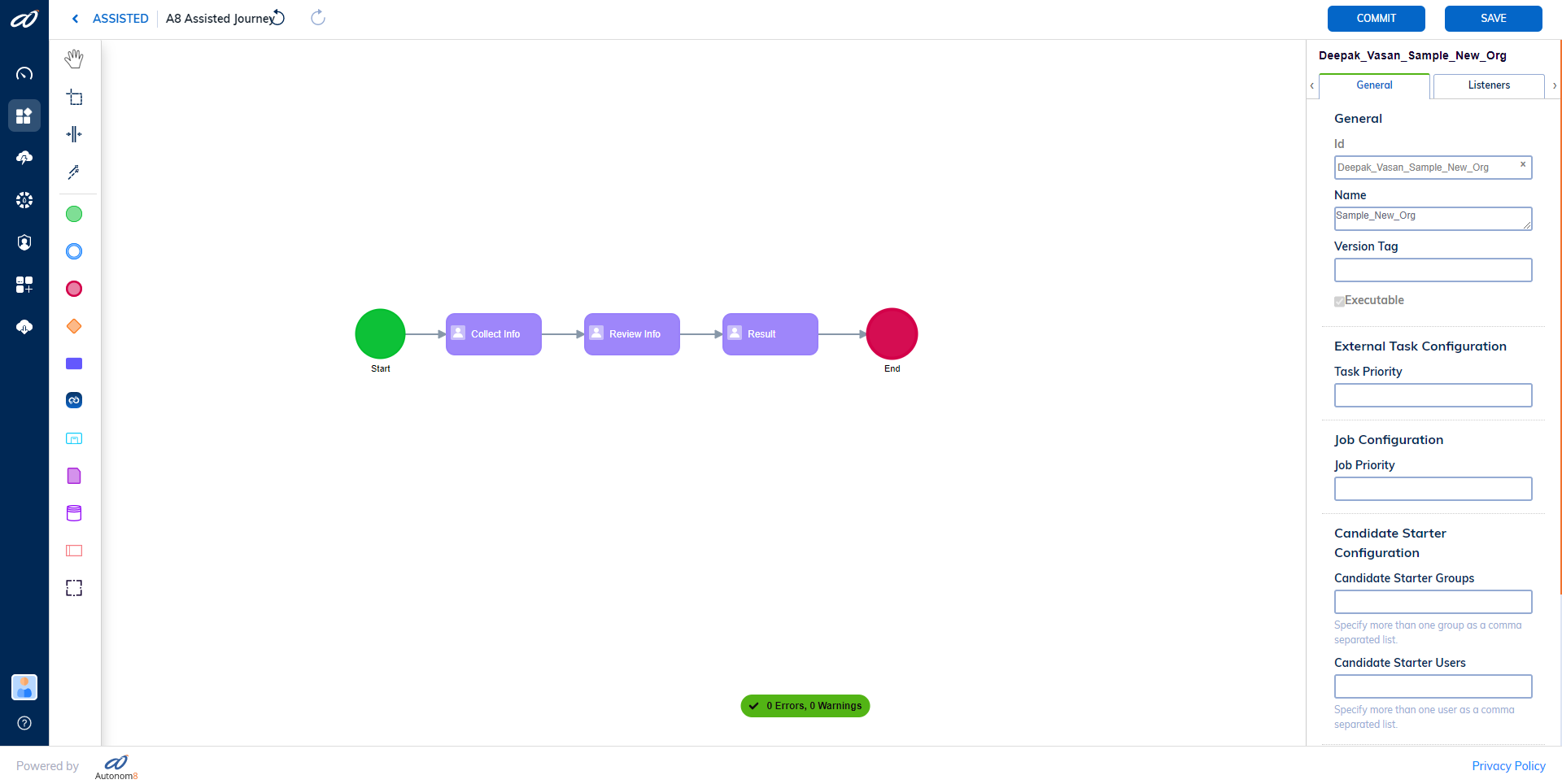 ---